The Principal quality
Every detail of the kitchens and laundries you're about to discover has been designed around the very best in contemporary living. With clever storage solutions, the latest finishes, and special touches to make your kitchen and laundry distinctly your own, Principal helps set a new standard in kitchen and laundry design trends. Discover durable and stylish bench tops and finish your room with sinks and tapware. From traditional looks to ultra-cool and contemporary, there really is something to inspire everyone.
Installing your Principal kitchen or laundry couldn't be easier with all assembly hardware included in our cabinet packs such as hinges, runners, screws and cabinet feet.
No separate purchases of these hardware or fasteners are required.
Our warranty - Built for life
It's great to know your Principal kitchen and laundry is backed by a 10-year guarantee. All cabinetry features solid backs, high moisture resistant E1 Australian particle board, quality PVC edging on all exposed edges of the cabinetry and multiple support rails to take substantial weight. Which means you can be sure your kitchen will withstand the realities of modern life
Step into your new kitchen or laundry
Take a virtual tour of our latest Principal kitchen and laundry design with innovative storage solutions and top quality modern finishes.
Design your dream kitchen or laundry
We've taken the guesswork out of designing your dream kitchen or laundry, by providing all the tools you need to turn your dream into a reality. Start your designs online at home and we can finalise your design and complete your order in store.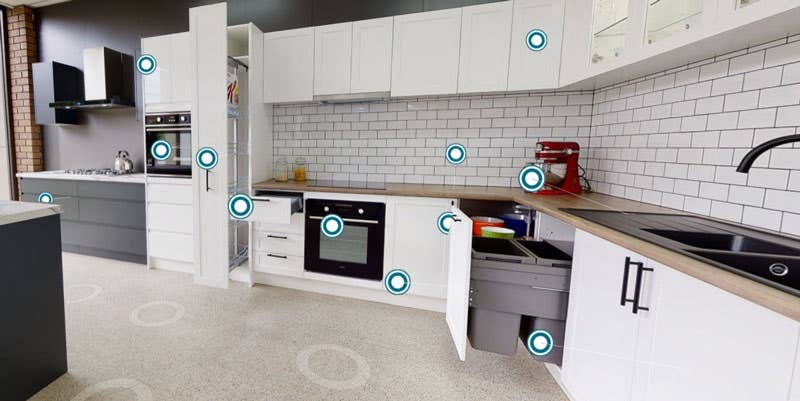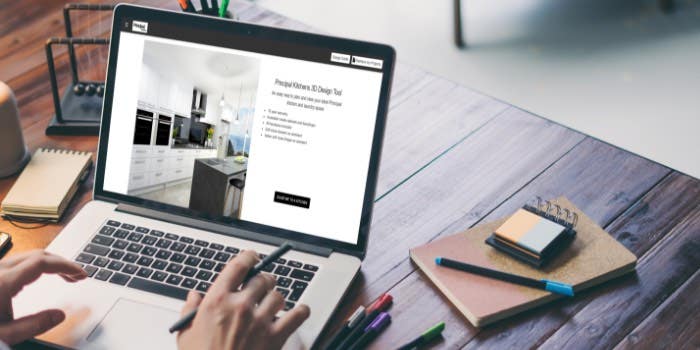 ---
Outdoor Kitchen Range
Whether you're looking for a holiday getaway in your backyard or an entertainer's dream area, our new Outdoor Kitchen range will make it happen.
Designed and manufactured from hard wearing materials, your Outdoor Kitchen will be looking good even after many years of cooking and entertaining. Features include:
Australian made cabinets

Option of two door colours and four benchtop colours

Includes a premium, Australian made BBQ
Kitchen Design Consultation
Let us design and quote your Principal kitchen, laundry or outdoor kitchen for you. Complete the form and one of our design consultants will be in touch to guide you through the measurement and design process.
Available at participating stores
Australian Capital Territory
| | | | | |
| --- | --- | --- | --- | --- |
| MITCHELL - Hudson Mitre 10 Trade Centre | 34 Vicar Street | MITCHELL | 2911 | 02 6213 3700 |
New South Wales
| | | | | |
| --- | --- | --- | --- | --- |
| BOURKE - Bourke Home Timber & Hardware | 36/38 Oxley Street | BOURKE | 2840 | 02 6872 2373 |
| BROKEN HILL - Globe Home Timber & Hardware | 108 Galena St | Broken Hill | 2880 | 08 8087 5382 |
| COONAMBLE - Cant Bros. Home Timber & Hardware | 45-49 Castlereagh Street | COONAMBLE | 2829 | 02 6822 1188 |
| DUNEDOO - DUNEDOO RURAL HARDWARE PTY LTD | 6 Wallaroo Street | DUNEDOO | 2844 | 02 6375 1107 |
| GILGANDRA - Rohr's Home Timber & Hardware | 6 Warren Road | GILGANDRA | 2827 | 02 6847 2411 |
| GLEN INNES - Glen Innes Home Timber & Hardware | 207 Ferguson Street | GLEN INNES | 2370 | 02 6732 2155 |
| MERIMBULA - Merimbula Mitre 10 | 68-76 Main St | MERIMBULA | 2548 | 02 6494 3800 |
| MERRIWA - Merriwa Home Timber & Hardware | 139 Bettington Street | MERRIWA | 2329 | 02 6548 2077 |
| MOREE - Dippers Home Timber & Hardware | 398 Warialda Street | MOREE | 2400 | 02 6752 2233 |
| MUSWELLBROOK - Muswellbrook Home Timber & Hardware | 21 - 25 Market St | MUSWELLBROOK | 2333 | 02 6541 4014 |
| RUTHERFORD - Hudson Mitre10 Trade Centre | Unit 1, 51 - 65 Aberglasslyn road | RUTHERFORD | 2320 | 02 4936 8666 |
| RYLSTONE - Rylstone Home Timber & Hardware | 19-23 Louee Street | RYLSTONE | 2849 | |
Northern Territory
| | | | | |
| --- | --- | --- | --- | --- |
| ALICE SPRINGS - B & S Mitre 10 | 11 Smith Street | ALICE SPRINGS | 0870 | 08 8952 2488 |
Queensland
| | | | | |
| --- | --- | --- | --- | --- |
| AYR - Burdekin HomeTimber&Hardware | PO Box 967 | AYR | 4807 | 07 4783 8230 |
| BOWEN - Bowen Home Hardware | 27 Williams Street | BOWEN | 4805 | 07 4786 1733 |
| GAILES - Gailes Home Hardware | 65 - 67 Old Logan Road | GAILES | 4300 | 07 3271 1663 |
| GOONDIWINDI - Mackenzies Home Timber & Hardware | 22 Lagoon Street | GOONDIWINDI | 4390 | 07 4671 4033 |
South Australia
| | | | | |
| --- | --- | --- | --- | --- |
| ARDROSSAN - Ardrossan Home Hardware | 14 First Street | ARDROSSAN | 5571 | 08 8837 4233 |
| COWELL - Cowell Home Timber & Hardware | 19 Main Street | COWELL | 5602 | 08 8629 2073 |
| GOOLWA - Kies Home Timber & Hardware | 64 Gardiner Street | GOOLWA | 5214 | 08 8555 3605 |
| MOONTA - Shippy's Hardware | 15 Ryan Street | MOONTA | 5558 | 08 8825 2867 |
| MORGAN - Morgan Home Hardware | 20 Sixth Street | MORGAN | 5320 | 08 8540 2342 |
| PETERBOROUGH - Peterborough Home Timber & Hardware | 131-135 Main Street | PETERBOROUGH | 5422 | 08 8651 2303 |
Tasmania
| | | | | |
| --- | --- | --- | --- | --- |
| DEVONPORT - Becks Mitre 10 | 19-25 Don Road | DEVONPORT | 7310 | 03 6424 1481 |
| EXETER - Exeter True Value Hardware | 116 Main Road | EXETER | 7275 | 03 6394 4386 |
| HUONVILLE - Clennett's Mitre 10 | 53-59 Main Road | HUONVILLE | 7109 | 03 6264 1255 |
| KINGSTON - Clennett's Mitre 10 | 10 Huntingfield Drive | KINGSTON | 7050 | 03 6229 7888 |
| LAUNCESTON - Becks Mitre 10 | Corner Lawrence & Boland Street | LAUNCESTON | 7250 | 03 6332 6201 |
| NEW NORFOLK - Williams Mitre 10 | 10 Charles Street | NEW NORFOLK | 7140 | 03 6261 3177 |
| PORT SORELL - Becks Mitre 10 | 104-108 Aleaxandra Road | PORT SORELL | 7307 | 03 6428 6811 |
| ST HELENS - St Helens Mitre 10 | 17 Cecilia Street | ST HELENS | 7216 | 03 6376 1119 |
Victoria
| | | | | |
| --- | --- | --- | --- | --- |
| BOORT - George Tallis Home Timber & Hardware | 142 Godfrey Street | BOORT | 3537 | 03 5455 2244 |
| CHELSEA HEIGHTS - Womersley's Mitre 10 | Cnr Springvale & Wells Rd | CHELSEA HEIGHTS | 3196 | 03 9781 9500 |
| CHELTENHAM - Park Road Mitre 10 | 21 Park Road | CHELTENHAM | 3192 | 03 9584 8855 |
| DIAMOND CREEK - Diamond Valley Mitre 10 | 95 Hurstbridge Road | DIAMOND CREEK | 3089 | 03 9438 8400 |
| EMERALD - Emerald Coop Mitre 10 | 315-317 Main Road | EMERALD | 3782 | 03 5968 4222 |
| GLEN IRIS - Tait Mitre 10 | 15 Weir Street | GLEN IRIS | 3146 | 03 9822 3381 |
| MOORABBIN - Moorabbin Mitre 10 | 230 Wickham Road | MOORABBIN | 3189 | 03 9553 0155 |
| NUMURKAH - Numurkah Home Timber & Hardware | 63-69 Melville Street | NUMURKAH | 3636 | 03 5862 3131 |
| TRAFALGAR - Jenkins Home Hardware | 22 Contingent Street | TRAFALGAR | 3824 | 03 5633 1444 |
Western Australia
| | | | | |
| --- | --- | --- | --- | --- |
| CARNARVON - Tropics Home Timber & Hardware | 345 Robinson Rd | CARNARVON | 6701 | 08 9941 2884 |
| KARRATHA - Home Hardware Karratha | Unit 8 3813 Balmoral Road | KARRATHA | 6714 | 08 9144 4727 |
| MALAGA - Versatile Mitre 10 | 500 Alexander Drive | MALAGA | 6090 | 08 9249 7788 |
| MANJIMUP - Manjimup Home Hardware | 95 Giblett Street | MANJIMUP | 6258 | 08 9771 1926 |
| MERREDIN - Two Dogs Home Timber & Hardware | 112 Barrack Street | MERREDIN | 6415 | 08 9041 1078 |
| OSBORNE PARK - Osborne Park Home Timber & Hardware | 203 Main Street | OSBORNE PARK | 6017 | 08 9344 7900 |